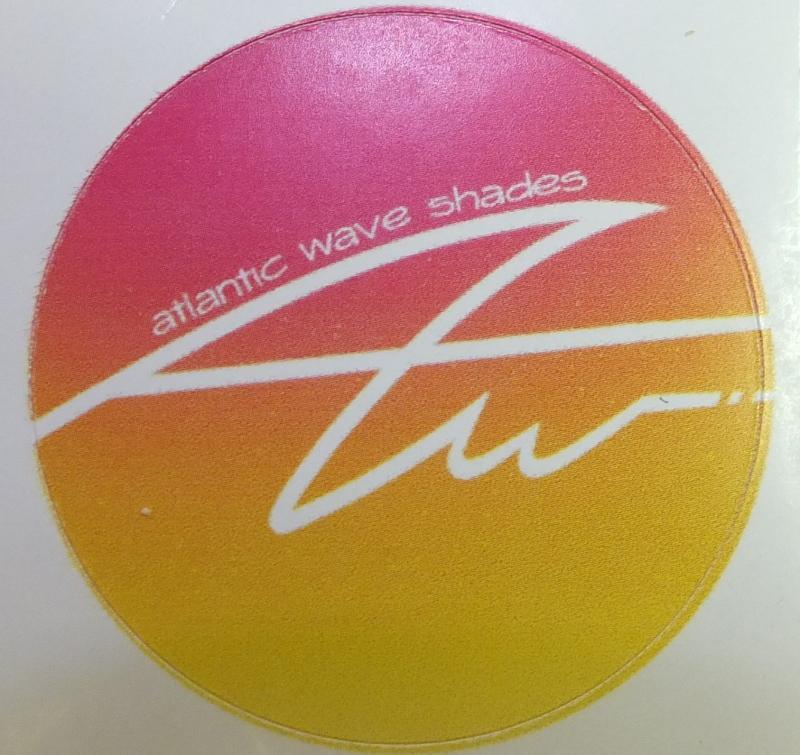 Check out Atlantic Wave Shades!
Evelyn Andrews
Tuesday, April 30, 2019
Atlantic Wave Shades more than classroom project
By
JOSEPH CHARPENTIER Boothbay Register
A close look at Atlantic Wave Shades, one of Boothbay peninsula's newest local companies, shows branding that could be a sensation to hook just about anyone under the sun. However, the workers also stand out: No one is over the age of 18.
Boothbay Region High School's Making and Marketing class puts students at the helm of a company. The students choose the company and do all the jobs, from finance to marketing and engineering to production.
Teachers Chip Schwehm and Abby Manahan oversee the class which occurs every other year and is in its third year. This year's class has 17 students, from sophomores to seniors, tasked with choosing a product, creating the company, seeking a loan and getting the product created, branded and sold.
"The goals for the class are the school's learning goals," said Schwehm. "Basically, we want students to be good communicators, learn to be thinkers, problem solvers, and to be collaborative workers. They call them the '21st century learning results.'"
Communication, collaboration, critical thinking, problem solving and community service are the five key areas BRHS is moving toward. Schwehm and Manahan said the teachers' goals are to push students to self assess based on these criteria; quarterly reviews give feedback and continue dialogue on further development.
"The (reviews are) a narrative Abby and I write on four of the categories, what we see them doing in class, what they're doing well, if there's something they can improve on," Schwehm said.
"Like a job performance evaluation," Manahan added. "We try to make it authentic in that respect because they really are running a company."
The teachers said after choosing sunglasses as a product from over 100 ideas during the brainstorming process, students had to secure funding. Funding would have to come through the central office, so the teachers set up a mock loan application process. Students had to pitch a business plan to Alternative Organizational Structure (AOS) 98 Superintendent Keith Laser and school committee members.
The class received a $750 loan. The funds had been earned through previous Making and Marketing classes, Schwehm said. "So, it's not money from the towns. This class funds itself."
Sophomore Owen Barter is one of the production managers at Atlantic Wave Shades. Though behind schedule, Barter said he is confident the company will soon have a product to show for its labors.
"The frames are complete to glue up and we are working on a couple molds to make the arms," Barter said. "Once we get that one last mold finished then we should be able to assign jobs and put everything together."
The engineering department created and laid out the design on Rhino 3D software, a computer-assisted design (CAD) program, and cut it out on the school's new laser cutter. The frames and the arms are made of three layers of mahogany and maple veneers. The lenses are Oakley replacement lenses.
Sophomore Mason Erhard, one of the engineers, said that after at least four prototypes, he can say the job is a lot of trial and error. "It's fun, but it can be stressful. We're behind schedule – we were supposed to be producing sunglasses by now."
Fellow engineer sophomore Ryan Russell said the company is very close and the latest hiccups are only because the molds they created took some troubleshooting.
"Once we start production, I think it will go fairly quickly because we can make five or six at a time," said Russell.
Schwehm said the engineering and production teams had to redo molds about five times to glue and shape the frames – a setback, but a good learning experience. Manahan said, like in any company, one department's difficulties can impact another. For example, due to the setback in the schedule, the finance department also had to find a way forward.
"They've had to make some decisions around 'Do we buy now or do we half our purchase because we're low on funds?' They've been trying to make product and they have no revenue yet and they overspent a little bit on what they planned. All problems companies can have."
The marketing department really brings the company together. Sophomore John Roberts and senior Duyen Nguyen showcased their department's work on the company website and on social media platforms likeFacebook and Instagram.
"We're in charge of anything to do with social media and getting our business out there. Lately, we've been working on our website," said Roberts. He said everything is just about done and the last task will be initiating sales so people can begin filling their online carts.
Students said sales will likely begin within the next couple weeks, with a likely price of $39.99 per unit. Check out Atlantic Waves Shades at: https://www.atlanticwaveshades.com/
https://www.boothbayregister.com/article/atlantic-wave-shades-more-classroom-project/117366