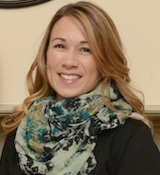 Our New Guidance Counselor Mrs. Burnham!!!
Dan Welch
Friday, August 09, 2019
A native Mainer, Leanne Yeaton Burnham attended Monmouth Academy and graduated from the University of Miami in Coral Gables, Florida. After a brief stint in Washington, DC in the field of government affairs, Ms. Burnham returned to Maine eventually settling in her hometown of Monmouth. Ms. Burnham received her M.Ed in Higher Education/Student Development from the University of Maine and served as the Associate Director of Student Activities at Colby College where she was responsible for planning and implementing orientation as well as weekly campus programming.
Following her time at Colby College, Ms. Burnham spent over 14 years at Kents Hill School where she served as both Director of College Counseling and Director of Admissions. She has worked with hundreds of students, from all points in Maine and around the world, helping them to high school as well as the college search and application process. She believes strongly in helping students find a program that is the right "fit" for their academic, extracurricular and personal needs. She's seen students admitted to a wide variety of institutions including the local Community College and University of Maine systems, Bowdoin College, Duke University, the University of New Hampshire, Northwestern University, Princeton University, Rochester Institute of Technology, and Tufts University. Additionally, Ms. Burnham has been a seasonal reader for the Admissions Office at Northeastern University.
Ms. Burnham is excited to join the Boothbay Region High School team and looks forward to being part of a community that is steeped in tradition. She enjoys working one-on-one with students and their families, as they navigate their high school experience. When it comes to post high school planning, Ms. Burnham takes pride in getting to know her students and helping them to explore a variety of options. The process of planning for life after high school provides an opportunity for Ms. Burnham to share in one of the most important experiences, and undoubtedly one of the biggest decisions, of a young person's life.
Ms. Burnham and her partner, Matt Richardson, live in Monmouth with their five children - Alicen (16), Megan (13), and Lauren (9) Burnham and Hunter (20) and Spencer (18) Richardson - and their yellow lab, Porter. Ms. Burnham is an active member of her local community, serving on the RSU2 Board of Directors, volunteering with Diddos for Kiddos, and officiating competitive cheerleading competitions. Ms. Burnham is a proud New York Yankees fan and she "bleeds orange and green" for the Miami Hurricanes - especially during football season! When she's not working with students, Ms. Burnham can most likely be found on the sidelines of her daughters' soccer games, squeezing in a visit to Sugarloaf, or spending time on Cochnewagon Lake.